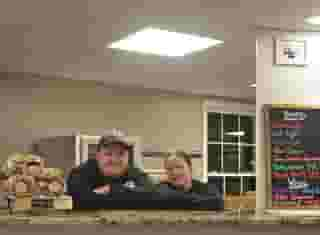 Our Story
Wilton House of Pizza is a family owned and operated restaurant in Wilton New Hampshire. Owned by Amy & DJ Garcia since the beginning of 2013, it has grown into a small town focal point thanks to its loyal customer base and dedication to outstanding food and service. Starting out small many years ago, the restaurant has evolved beyond a simple pizza shop and strives to bring new and different food options every day.


DJ Garcia was born in Florida, but spent the majority of his years growing up in Amherst New Hampshire. At a young age he became involved at Wilton House, folding pizza boxes while his stepfather worked there as a delivery driver. In 1998 the restaurant went up for sale and DJ's parents, with years of experience working at Domino's, made the decision to purchase it. DJ worked at Wilton House on and off throughout his teenage years, also working other jobs in the food service industry. He would eventually leave to pursue his own business ventures, owning and operating a music entertainment business and a custom car audio business, but always stayed involved at Wilton House. In late 2012, he made the decision to buy the restaurant from his parents and took over ownership with his wife Amy in the beginning of 2013.
Amy Garcia grew up in Francestown, working in multiple facets of the service industry from a young age. She began working at the Francestown store in her teens, exposing her to customer and food service early on. She worked as a waitress at the Side Trax Cafe while also landscaping and house painting. She became involved at Wilton House in her late teens when she started working there. She proved to have a natural knack for the industry, quickly becoming a manager at the restaurant. It was here that she would meet DJ, the two eventually building a relationship that would grow over the years. She left Wilton House in 2010 to pursue her own business full time, a residential and business cleaning service called Time to Shine. She returned in late 2012 with DJ when they made the decision to purchase Wilton House.
Wilton House of Pizza became a restaurant in the 1980's, and has since evolved past its categorization as a basic pizza shop. A dedication to quality and detail sets Wilton House apart from other restaurants in the area. With pizza still being their primary passion, dough is homemade daily and hand tossed then topped with house made pizza sauce and freshly shredded cheese. The high standards extend to all facets of the food, with fresh bread being brought in daily, meats sliced in house, a slew of homemade items including burgers and meatballs, made to order freshly chopped shaved steak and house marinated steak tips, and a multitude of delicious daily specials. Backed by a dedicated and loving staff, many members whom have been at the restaurant for multiple years, Wilton House continues to grow and improve year after year.


Today, Amy & DJ continue to strive to evolve and improve upon the foundation built at Wilton House. From expanding and changing the menu regularly, adding new and interesting items on a regular basis, to approaching their takeout service in a more environmentally friendly way, using plant based biodegradable containers and accepting plastic bags to reuse for takeout. They try to offer a unique view of how the restaurant can be more than just a pizza shop by offering daily specials and unique options not typically seen at other pizzerias. On the precipice of a new evolution, Amy & DJ have undertaken a huge remodel and redesign of the aging building. They look forward to how they can continue to expand their horizons, redefining what it means to own a small town restaurant, and are excited to see what the future holds for Wilton House of Pizza.