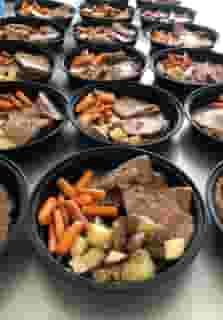 What's new at the WHOP!!
Did you know we now offer a wide variety of Grab N Go items? Check out our brand new section of homemade meals to go! Just bring them home and heat them up! Dinner has never been so easy:) 
We are constantly adding new meals, and they also sell quickly, so right now we are unable to offer a menu for these items. For now, feel free to call us and ask what we have, or check our facebook for regular updates.

Here's a list of the items we typically have. 
(These items are not ALL always in stock, so just call to make sure, or to reserve what you would like!)

-Lasagna
-Chicken picatta
-Pot roast dinner
-Meatloaf dinner
-American chop suey
-Shepherds pie
-Chicken pot pie
-Chicken broccoli alfredo
-Mac & cheese
-Cheese manicotti
-Turkey dinner
-Chicken Parm

We also offer quarts of:
-Chicken salad
-Fruit salad
-Potato salad
-Cole slaw
-Garlic parm mashed potatoes
-Spicy beef chili
-Pasta salad
-Macaroni salad
Check Out Today's Specials!
Wilton
28 Forest Rd
Wilton, NH 03086

Hours
Monday - Tuesday:
10:00 am - 8:00 pm
Wednesday:
10:00 am - 8:30 pm
Thursday - Saturday:
10:00 am - 9:00 pm
Sunday:
10:00 am - 8:00 pm